Fullscript is an online platform that helps you the customer receive professional-grade supplements.
ORDER PROFESSIONAL-GRADE SUPPLEMENTS THROUGH FULLSCRIPT: https://ca.fullscript.com/welcome/creeves1556808417
We've all been there – you reach into your medicine cabinet to pull out your daily dose of a trusted supplement, only to realize that the bottle is empty. Until now, that empty bottle meant you would have to wait a few days to receive a new order of supplements. When a product is crucial to helping you feel well, a few days without it can be stressful for mind and body.
Never miss another day.
Fullscript users can now choose to have orders processed and sent automatically, just as you're running low on your supplements.
Eliminate the need to go online or call to re-order.
Make it easier to follow your treatment plan by keeping your supplement supply stocked.
Give yourself more time to focus on your health and wellness goals.
How to Subscribe to Autoship as a Patient
Click on this icon and it will take you to my Fullscript virtual dispensary: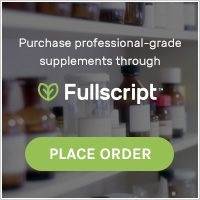 Once logged in, under the Autoship tab, choose the frequency with which your products will be automatically shipped by Fullscript.
Once frequency is selected, add desired products and select "Update". A confirmation email summarizing your Autoship products will be sent to you.